"COLOR BLOOD WOULD HAVE BEEN TOO REPULSIVE," Alfred Hitchcock says, explaining why he filmed his classic 1960 movie Psycho in black and white.
By now it's well known that diluted Hershey's chocolate syrup was used to simulate blood spattering and then pouring into the bathtub during the film's legendary shower scene—in which the embezzling, adulterous blonde played by Janet Leigh is knifed to death by what appears to be an old woman but is later revealed as her son, Norman Bates, played by Anthony Perkins. But a wealth of new insights into Psycho and its shower scene in particular emerge in the excellent new documentary 78/52, from writer/director Alexandre O. Philippe.
The documentary's title refers to the 78 camera set-ups and 52 fast edits that went into the harrowing three-minute shower scene, which are discussed and dissected by actors, directors, writers and editors including Peter Bogdanovich, Guillermo del Toro, Bret Easton Ellis, Danny Elfman, Elijah Wood—and Jamie Lee Curtis, Janet Leigh's daughter.
Through their comments, we come to appreciate the artistry of Psycho and its shower scene even more than before, further realizing the brilliance of a film which when released seemed like a strange, B-movie choice from the director whose previous picture had been the lush, color masterpiece North by Northwest.
In one archival interview clip, Hitchcock claims that Psycho was intended as a joke. But the idea that we are not safe even while taking a hot shower, a moment when we stand naked and most vulnerable—and that the mothers of idealized 1950s America could destroy us—was made all the more unsettling by Hitchcock's device of turning audiences into voyeurs alongside the psychopathic Bates, while also being attacked by him.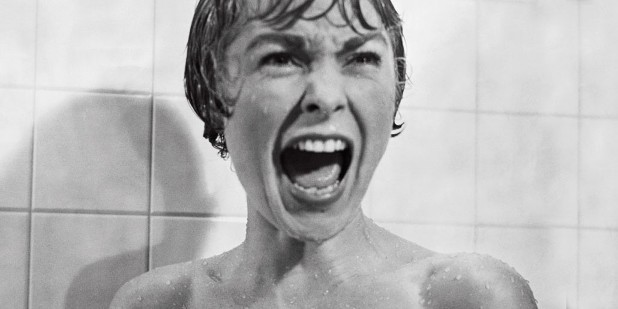 Janet Leigh in the shower scene from the movie Psycho.
To the shrieking beats of Bernard Herrmann's classic score, the glinting butcher knife slashed not only Leigh's body but at the camera and the audience themselves, seeming to stab straight through the screen at the screaming theater patrons in their seats. From varying angles, we become killer and victim, seeing the knife raised as if in religious judgment before coming down at Leigh and at us, again and again. In the documentary we learn that the scene's sound effects were achieved by plunging a knife into melons and a slab of beef.
A true artist, Hitchcock defied convention and expectations with Psycho's black-and-white film, overt sexuality, near nudity and murder of its leading lady early in the movie. The fact that Leigh is suddenly attacked and killed, and in such an intense way, has not lost its power to shock but must have been especially terrifying to viewers seeing the movie for the first time.
The knife that penetrates her is a deadly phallic proxy.
Among the interviews in 78/52 are people involved with the 1998 remake of Psycho, which should not have been included (arguably the new version should never have been made). Credit is given to the wide-ranging cultural impact the original film has left on movies, television shows and music. In one archival sound recording, director Martin Scorsese explains that he modeled a fight sequence in his boxing movie Raging Bull after the shower scene in Psycho.
One important point never acknowledged during 78/52 is the naked truth that the scene it celebrates involves the brutal murder of a woman. Setting aside the technical and artistic ingenuity of the filmmakers, it's a horrible thing to witness. Leigh's character, Marion Crane, is lethally punished for stealing money from her employer and having sex with a married man. The knife that penetrates her body becomes a deadly phallic proxy wielded by the sexually repressed Norman Bates and directed by the malignant spirit of his dead mother—both of whom were extensions of Hitchcock himself.
The documentary 78/52 will leave you with a heightened understanding and appreciation for Psycho, but also a queasy sense of guilt for taking pleasure in something so horrific. But the conflicting emotions of being voyeur and victim were Hitchcock's point. As Mexican director del Toro says in the documentary, "You knew you were in the hands of a master."
————
Alexandre O. Philippe's next documentary, Leap of Faith, will examine director William Friedkin and his classic movie The Exorcist. Read about Friedkin's real-life exorcism documentary, The Devil and Father Amorth.
If you enjoyed this article, please PayPal us $1 or more. Your support keeps Moresby Press in business: PayPal.Me/MoresbyPress