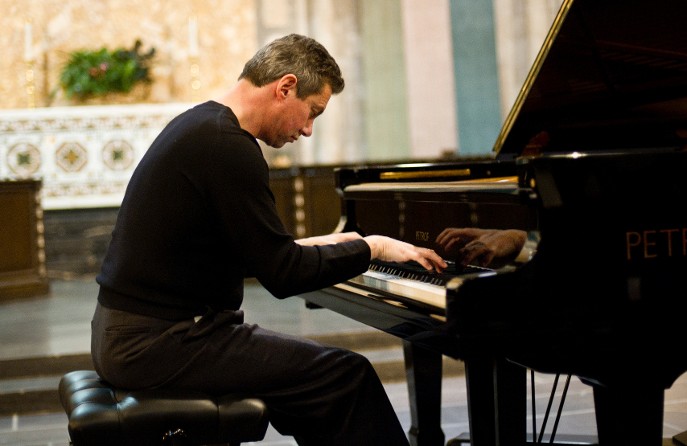 —
For Professional Musician Mark Valenti, Talent Is Only the Beginning
—

By GREG BEAUBIEN Sept. 29, 2017

MARK VALENTI HAS DEVOTED HIS LIFE to playing piano. It's difficult to imagine a harder-working professional musician than Chicago-based Valenti, who either practices or teaches classical piano 12 hours a day, every working day, with a just a couple breaks for meals or coffee. He makes his living by teaching students and traveling the country and sometimes the world performing solo recitals at universities, churches and other venues. And he does so with a single-minded sense of purpose and drive rarely seen in artists of any kind.
"My mission is to share beautiful music with people through performance and teaching in such a manner that they are left enriched without any notions of good or bad, or right or wrong, only fulfillment in self-expression," he says.
Indeed, one of Valenti's most salient characteristics as a musician—other than his powerful, passionate playing and indefatigable work ethic—is that despite performing well-known pieces by classical composers including his favorites Debussy, Bartok, Prokofiev and Chopin, he does not feel strictly bound by the scores themselves. As a former jazz pianist, he still plays in a more emotive, improvisational style than one would expect from a classical musician. Even when sight-reading sheet music, "I'm playing by ear," he says. "When I see a note on the page, I'm hearing the sound, and I play to produce that sound." An improvisational approach, or at least one that allows for interpretation, "is where the creative process begins," he says.
—
'When I see a note on the page, I'm hearing the sound, and I play to produce that sound,' Mark Valenti says.

—
Valenti, 57, didn't start playing piano until he was 15 years old in Fairview Village, Pa., about 40 miles northwest of Philadelphia. He practiced so hard that he injured his hands. He later earned his Bachelor of Music degree from the Philadelphia Musical Academy and his Master of Music from Northwestern University. When he's not practicing, performing or teaching students, he's busy booking his own appearances and managing his travel and performance schedule, without an assistant.
"It always bothers me when people tell me I'm lucky to be able to make my living this way," he says. "They don't understand how hard I work."
As of late September, he has performed 17 solo piano recitals this year, in Illinois, Wisconsin, South Carolina, Kansas, Hawaii, Texas, Virginia and Maryland. On Oct. 10, he'll perform in Augusta, Ga. His schedule continues through the end of 2017, and he already has dates booked for 2018 and even into 2019.
No matter where he plays, he takes time to see the local sights, whether that means visiting Arlington National Cemetery, hiking in Hawaiian rainforests, or being the sole customer at a barn museum in rural Iowa.
But it's his passion for music that keeps him going. Playing piano "is a labor of love for me," says Valenti, who is also taking guitar lessons. He works on a 9 a.m.–9 p.m. schedule. When it's time for bed, he says, "I can't wait to get up and do it all over again."
—
If you enjoyed this article, please PayPal us $1 or more. Your support keeps Moresby Press in business: PayPal.Me/MoresbyPress