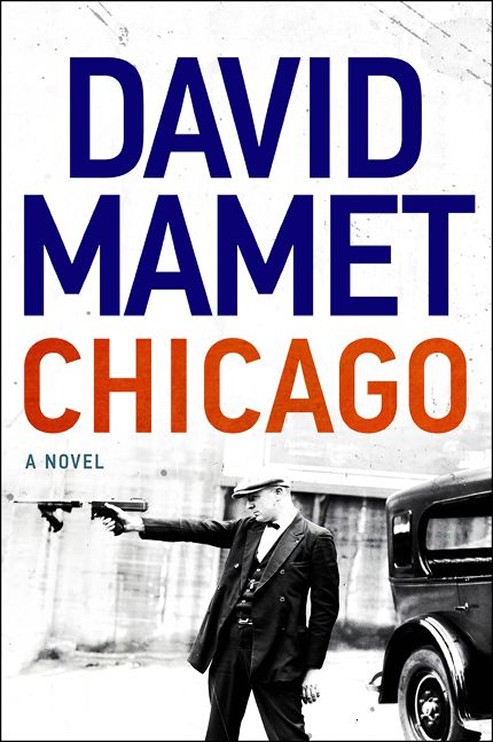 —
With New Novel
Chicago,

David Mamet Comes Home
—
By GREG BEAUBIEN March 3, 2018
—
"ANYBODY CAN WRITE A NOVEL, as anyone who's ever been in an airport bookstore can see," David Mamet says. "But can they write a sentence that's so good it's poetry?"
Mamet, 70, was back in his hometown of Chicago today, discussing his enviable and prolific career as a playwright, screenwriter, movie director and author, and promoting his new novel (his first in more than 20 years), a story of Prohibition-era gangsters called Chicago.
If a good novel requires not just an absorbing story but beautiful sentences, "Writing a movie is like doing sketches for a comic book," he told Chicago Tribune writer Rick Kogan during a luncheon at the Union League Club. "You're describing pictures."
Writing a play, on the other hand, "is like writing a poem," he says. "You're conveying what the characters want, not what they say. It's a process of removing words, down to the syllables."
Does Mamet have a favorite kind of writing? "I like them all," he tells Moresby Press. How long did it take him to write Chicago? "I have no idea," he says.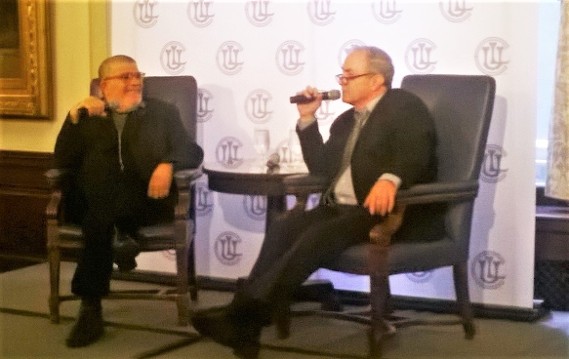 David Mamet (left) in conversation with Chicago Tribune writer Rick Kogan,
Chicago, March 1, 2018. (Moresby Press photo)


Mamet, an affable, unpretentious man, has written 23 plays, eight collections of essays, two novels, five children's books, two books of poetry, and eighteen films. He first found acclaim as a playwright in 1976, at the age of 28, with his trio The Duck Variations, Sexual Perversity in Chicago, and American Buffalo. In 1984, when he was 39, he was awarded the Pulitzer Prize for his searing play Glengarry Glen Ross, about desperate salesmen trying to dupe suckers into buying worthless swampland in Florida. He also penned the screenplay for the powerful movie adaptation released in 1992, starring Jack Lemmon, Al Pacino, Alan Arkin, Ed Harris, Kevin Spacey and Alec Baldwin.
Mamet broke into the movie business at the age of 36, when his screenplay for the remake of The Postman Always Rings Twice (based on the novel by James M. Cain) was produced in a film directed by Bob Rafelson.
"In show business, you have to fight your way in," Mamet says. "I told Rafelson: 'If you don't hire me for this, you're crazy.' His response was, 'If that's your attitude, then you're hired.'"
Mamet was determined to succeed. "I told myself, 'I'm not giving up,'" he says. "I never doubted my own abilities."
A year after Postman, director Sidney Lumet's film The Verdict was released (starring Paul Newman as an alcoholic, ambulance-chasing lawyer who tries to redeem himself with a malpractice case), and Mamet received an Academy Award nomination for adapting the screenplay from the novel by Barry Reed.
Mamet went on to write and direct a long list of movies made from his own scripts, starting with the con-man story House of Games (1987), followed by Things Change (1988), Homicide (1991), Oleanna (1994), The Spanish Prisoner (1997), The Winslow Boy (1999), State and Main (2000), Heist (2001), and Spartan (2004).
His other screenwriting credits include the Chicago gangster tale The Untouchables (1987), American Buffalo (1996, based on his play), the political satire Wag the Dog (1997) and Silence of the Lambs sequel Hannibal (2001).
Remarkably, given his fame and success, he had a hard time finding a literary agent and publisher for his new book, before eventually signing with David Vigliano, who sold Chicago to Custom House, an imprint of William Morrow.
In the novel, which he says is about newspaper reporters, "cops, crooks and smuggling Tommy guns," and which mixes fictional characters with real-life figures like Al Capone, Mamet says "I got to imagine myself back in the '20s in Chicago. I would ask myself questions and then give myself answers."
—
If you enjoyed this article, please PayPal us $1 or more. Your support keeps Moresby Press in business: PayPal.Me/MoresbyPress